Liv and Maddie's room

Liv and Maddie's room

Owners

Located in
Liv and Maddie's Room was Liv and Maddie Rooney's bedroom located in the Rooney House.
Features
Two twin size beds
Windows
Mini couch with pillows.
Desk
Orange wallpaper
Curtains
Mirror
Chairs
Walk-in Wardrobe/Closet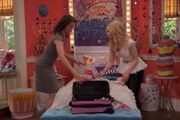 Trivia
Maddie's basketball trophies are displayed in this room.
Their room is on the second floor.
Maddie's side of the room is messy while Liv's is very tidy.
Liv and Maddie have shared this room since they were in sixth grade.
Liv has a colourful mannequin displayed in this room.
The room has a window in it.
The room has 2 beds for Liv and Maddie.
Liv's bed has lights around the headboard.
The windows are sort of a balcony.
The door is purple.
It is last seen in Californi-A-Rooney.
Maddie's Portion
Maddie Rooney's bed has the design of a basketball's close-up view. Surrounded by her bed there are basketball trophies and medals. She keeps her clothing in drawers. Parker installed a parker tunnel in Maddie's bed.
Liv's Portion
Above Liv Rooney's floral bed sits the Diva Board. There is also a multicolored mannequin, a large closet, a white desk and matching chair, and a shoe closet installed by Parker Rooney.
Middle Portion
There is a bay window with brightly colored pillows and stuffed animals.
Community content is available under
CC-BY-SA
unless otherwise noted.